Today's guest post from Rebekah Fitzsimmons's "Golden Age of Children's Literature" class comes from Jess Ferro. She looks once more at Pinocchio, asking just what it means to no longer be a puppet.
By Jess Ferro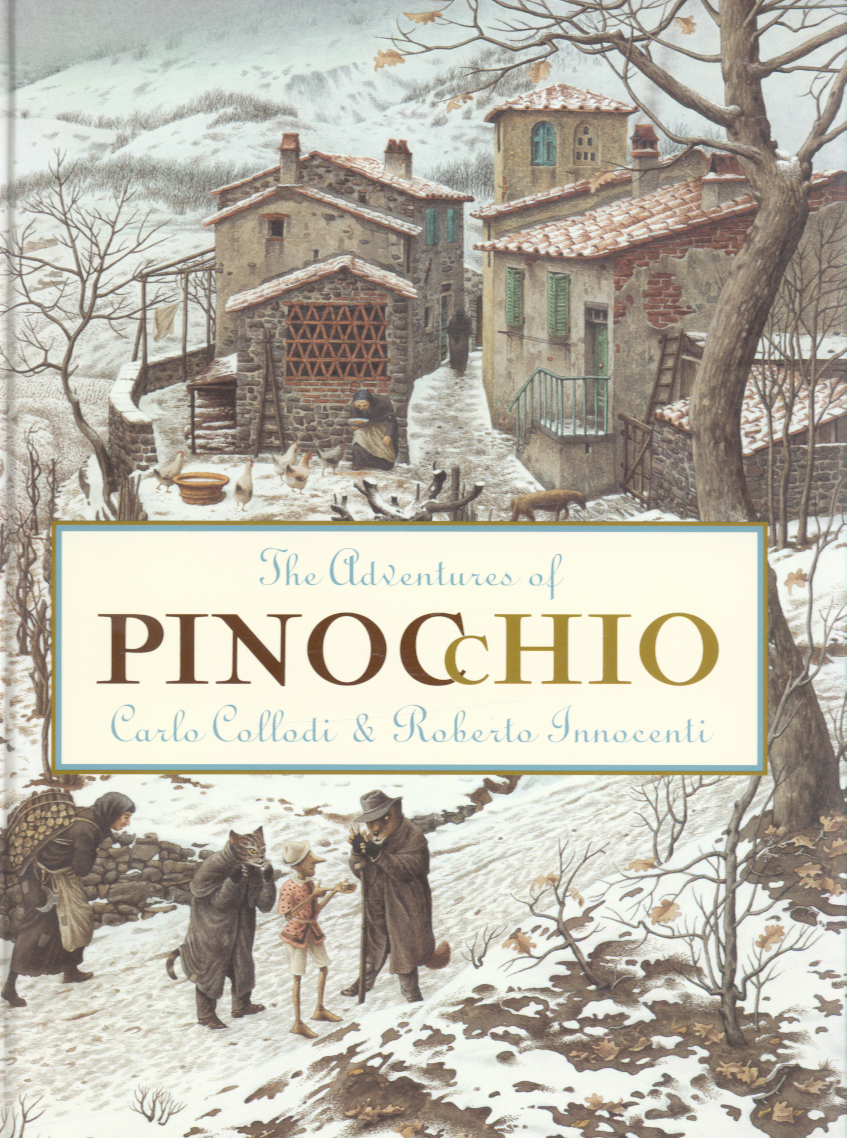 What does transitioning in and out of puppethood mean? Pinocchio spends almost the entire novel in a puppet state, and throughout the book he has ample opportunity to exert his free will and do as he pleases.  He is constantly disobeying the authority/parental figures and instead acting out on what he thinks to be his own desires.  However in the same token, while he is actively disobeying and rebelling against figures like the Wise Cricket, he is also being manipulated and used by others, predominantly the Fox/Cat team and Lampwick.
So what is Pinocchio's deal?  Is he endowed with free will and a mind to think for himself, or is he merely a piece of wood?  I found myself wondering this throughout the text, does puppet Pinocchio have a brain, a conscience, a soul?  His actions seem to reflect an ambiguous nature, his rebellion, and his subsequent regret, seem to point to at least brain activity and possibly a conscience.  But then his redundant proclivity for falling prey to others seems to hint that maybe his seeming stupidity is not his own fault but stems from the fact that he is indeed a wooden puppet.
In the last chapter, Pinocchio finally becomes a "real boy".  In this state, he is now making decisions on his own, and we can with little doubt believe that he will no longer fall prey to manipulators, he now has a brain, a heart, a soul filled with reason, that will help him discern how to act like a proper "real boy".  In saying all of this, it seems that, in the end, Collodi's use of Pinocchio's transformation from puppet to boy, in retrospect, points to the correlation of his transformation from immoral to moral child.  However, it's interesting that Collodi chooses to give Pinocchio some glimpses of a conscience and some sense of morality even in his puppet state.  Which Pinocchio will children relate to more?  Is it better to be a puppet or a real boy?  In one sense the answer is obvious, yes it's better to be a real boy, as in this state Pinocchio finally comes into his true self and reaches his happy ending.  But on the other hand, why does Collodi spend so little time in Pinocchio's real boy phase?  Does he believe that children are more like wooden puppets and through hardships and lessons finally transform into "real" children?
(All the illustrations are from Roberto Innocenti's illustrated edition, among all the other editions, this one really captures the nature of the story amazingly!  To see these images larger and more from Innocenti's version, here's a link that has more images:
http://chetvergvecher.livejournal.com/451061.html
)
Jess is an undergraduate at the University of Florida.